Cornwall Council approves £40m budget cut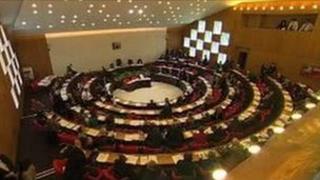 Cornwall councillors have approved £40m of cuts for the coming year and frozen council tax.
The majority of members on the Conservative-Independent controlled council voted to accept a one-off grant from the government to freeze the tax.
The budget, set at £451.7m for 2012/2013, is the second year of a four year plan to save £170m.
The Cornwall Council element of council tax for a Band D property will remain at £1,244.
Recommendations include £700,000 to fund a Cornish Bursary to help young people stay on at college or university.
Bus fears
The council has also earmarked £62m to build 4,125 new homes within the next four years, 3,000 of which will be affordable homes to rent.
The unitary authority also plans to bring 520 empty homes back into use, improve 700 existing homes, and adapt 2,200 homes to make them safe for older and disabled people.
Adult care and support has also received an extra £7m.
Leader Alec Robertson said: "It is not being done by cutting services, it is being done by doing things differently such as delivering services in different ways, using arms length organisations.
"We are procuring more smartly and buying more for less.
"It is about how you do business, not what you do."
Jeremy Rowe, leader of the opposition Liberal Democrats, said details of the cuts had not been finalised, but he feared cuts to rural bus routes.
He said: "We are being told to take a lot on trust.
"I suspect that the cabinet themselves do not know the detail in a lot of cases.
"But I think by and large the officers of the council have put together a pretty good budget."