Cornwall farm burial murders: Thomas Haigh jailed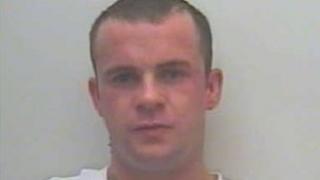 A man convicted of shooting two drug dealers found buried on a Cornish farm has been jailed for life and will serve a minimum of 35 years.
Thomas Haigh, 26, of West Yorkshire, was found guilty of murdering Merseyside boxer Brett Flournoy, 31, and David Griffiths, 35, of Berkshire.
Ross Stone, 28, of Sunny Corner Farm, St Austell, was acquitted of murder at Truro Crown Court.
However, he was jailed for five years after burying the bodies on his land.
'Arrogant young man'
Haigh killed the men because they were demanding he go to Brazil for a second time and bring back cocaine.
Summing up, Mr Justice Mackay said the deceased "were bad men but they had a right not to be killed - trading in drugs doesn't in this country carry the death penalty".
The judge told Haigh, formerly of Huddersfield, he was an "arrogant young man" who had got out of his depth in the criminal underworld.
"You were attracted to the gangster way of life, you convinced yourself you were a big boy playing in the big league," Mr Justice Mackay said.
"But I found your erratic behaviour made you unsuited to this elusive trade.
"This was no more than a result of your chosen lifestyle. You knew the rules of the criminal club you joined and you broke them."
Speaking outside Truro Crown Court after the sentencing, Janet Griffiths, mother of Mr Griffiths, said: "As a family we never imagined we would be standing here today and David would be gone. It really has been a living hell.
"We have had to accept the horrific way in which David was taken from us, but also had to endure six weeks of worrying and looking for David.
"To then find out that he was murdered, burnt and buried was truly too much to comprehend."
Commenting on the case, Chief Crown Prosecutor Barry Hughes said: "We worked closely with Devon and Cornwall Constabulary throughout this complex investigation.
"Both men changed their stories several times and it is thanks to the hard work and dedication of the whole prosecution team that this pair have been brought to justice. The sentences they received reflect the severity of their crimes."