Bude patient faces six hour journeys for appointments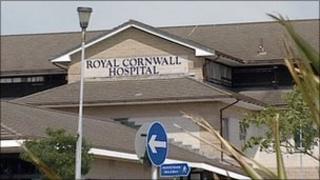 The mother of a schoolgirl from Bude has said her daughter's quality of life is being destroyed by changes to the NHS patient transport system.
Naomi Carter, 12, who has a rare medical condition, used to qualify for free patient transport.
But since a change in policy she has to travel by bus and train - a round trip of more than six hours.
NHS Cornwall said its policy included arrangements for anyone who had to travel three times a week or more.
Naomi suffers from Fabry disease, an enzyme deficiency that causes certain lipid molecules, called glycosphingolipids, to accumulate in the body's tissues, particularly the heart, kidneys, eyes and nerve tissue.
Margot Carter said her daughter could suffer from regular dizzy spells and sickness feeling like "a cartoon where people are trying to run on ball-bearings".
Other symptoms include inflammatory bowel disease, tinnitus, headaches and fevers.
'Often distressed'
By relying on public transport, Mrs Carter said her daughter's weekly trips to Truro for a half-hour hydrotherapy appointment can take all day.
Mrs Carter said: "I can't drive because of my epilepsy. We were entitled to patient transport that was free at the time. It meant Naomi could go to an appointment and be back for afternoon school.
"Now she gets tired and head-achey and often very distressed. It's a whole day of exhaustion. She misses her friends and really misses the life of school."
In a statement Amanda Fisk, the Director of Commissioning Development for NHS Cornwall and Isles of Scilly, said: "We understand how difficult it can be for people who have to travel frequently for health appointments.
"Patients on a low income can apply for help with travel costs and our new patient transport policy includes special arrangements for anyone who has to travel three times a week or more."
A spokesperson for the Royal Cornwall Hospital in Truro said: "We are looking at forthcoming appointments to see what we can do to make them more convenient for this young patient and her mother."