Cornwall sign language project under way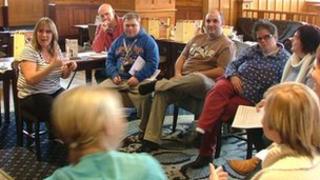 A project teaching basic sign language skills gets under way in Cornwall to improve communication between staff and people with learning disabilities.
The Community Communication Project is an initiative hoping to break down barriers and improve independence.
Run by the Cornwall Partnership NHS Foundation Trust (CFT), the project offers training to any organisations which work with members of the public.
If successful, the pilot project could be adopted across the UK and abroad.
CFT speech and language technician Sharon Hambley said the pilot project "is working".
Ms Hambley added: "The project involves going out and offering training to leisure centres, GP surgeries, pubs and cafes - in how to communicate more effectively.
"Using this form of signing, based on signs from British Sign Language, we can make a massive difference in helping an individual express themselves and be understood, which in turn improves their quality of life."
Wetherspoon pub duty manager Rob Liddicoat said the workshop had been "interesting" and "very helpful".
Mr Liddicoat said: "It showed us a new way of looking at things and given us some resources to help as well."