Wave Hub in Cornwall gets first energy device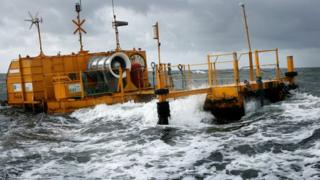 A wave energy firm has agreed to install the first device at the Wave Hub off the north Cornwall coast.
Irish firm Ocean Energy expects to deploy a full-scale device at the hub by the end of 2012.
It said an offer by the Wave Hub company to match the cost of its deployment expenses up to £1m was critical to the deal.
The Wave Hub, an electrical "socket" for testing wave energy machines, was put on the seabed off Hayle in 2010.
Ocean Energy's OE buoy generates electricity from a turbine turned by air being forced by wave action through a chamber.
It will send the electricity via a cable to the Wave Hub, which is linked to the coast by another electric cable laid on the seabed to a substation at Hayle.
'Major player'
Cork-based Ocean Energy has been testing a quarter-scale prototype of its buoy in Galway Bay for three years.
John McCarthy, chief executive and co-founder of Ocean Energy, said the offer of up to £1m match-funding from the Regional Development Agency (RDA) was "critical" to the firm choosing Wave Hub.
He said: "I cannot say that we would not have taken the decision to use Wave Hub without the cash, but it was very important.
"It also showed that the RDA is serious about making Wave Hub a major player in wave energy testing."
Wave Hub general manager Claire Gibson said: "By supporting Ocean Energy's deployment now we can fully test our operational procedures."
Ocean Energy's decision means that two of Wave Hub's four berths off Hayle on the north coast of Cornwall in south-west England have been reserved.
US and UK-based Ocean Power Technologies (OPT) has signed a "commitment agreement" to deploy its PowerBuoy device, although no date has been fixed.
An OPT spokesman said: "The company has projects all over the world.
"South-west England remains a core area of interest but a decision to deploy depends on the business case."