Sunny Corner Farm: Rural idyll hid drug murders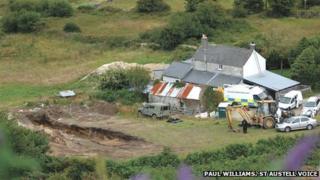 Sunny Corner Farm, near St Austell in Cornwall, became the focus of a double-murder investigation last summer when a burned-out van and the remains of two men were found buried in a pit.
At the centre of the story was Ross Stone. The 28-year-old lived at the farm where he worked as a digger driver and, as it emerged at Truro Crown Court, a drugs dealer.
Despite having no previous drug convictions, Stone had links with large-scale suppliers in Merseyside and would buy cocaine, amphetamines and ecstasy - before selling them on locally.
Things began to go wrong for Stone on New Year's Eve in 2010, when a bag of drugs with an estimated street value of £40,000 went missing from his home.
The drugs had disappeared, but the dealers who had supplied them, Brett Flournoy and David Griffiths, still wanted their money.
Mr Flournoy, a prominent professional boxer from Merseyside and Mr Griffiths, a former cage fighter, originally from Plymouth, used threats of violence against Stone, his family and his girlfriend's family to ensure they were paid, Stone claimed.
In an attempt to appease them and pay off his debts, Stone said he built an underground cannabis factory at Sunny Corner and planted more than 170 cannabis plants.
Meanwhile, Mr Flournoy and Mr Griffiths arranged for a lodger to move into Sunny Corner - a man called Thomas Haigh from West Yorkshire, who the court was told had previously worked for them as a drugs mule.
During a four-week trial, in which both Stone and Haigh stood charged with two counts of murder, the pair gave differing accounts of what happened on the June day that Mr Flournoy and Mr Griffiths died - each blaming the other.
Devon and Cornwall Police however, had no doubt the murder victims walked into a trap carefully prepared by both men.
'Thick farmer'
Although Stone had denied murder, he admitted "tidying up" afterwards - a lengthy and bloody task, which included dumping the shotgun and blotting up pools of blood in the farm lane using cement powder.
Stone, described by Haigh in court as a "thick Cornish farmer", dug a hole and buried the men's bodies.
Days later, worried he had not covered his tracks well enough, Stone dug an even deeper hole at Sunny Corner, dumped the men's van into it and set it ablaze. He then dug up the remains of the victims and threw them on to the flames, the court heard.
Once the flames subsided, Stone filled in the 2.5m (8ft) deep hole, building a dirt bike track, to explain the disturbed earth.
But the disappearance of Mr Flournoy and Mr Griffiths did not go unnoticed.
A major missing persons investigation was launched, which soon became a murder inquiry, codenamed Operation Garland.
Examination of the men's mobile phone records put them in the Trenance Downs area of Cornwall and drew police to Sunny Corner Farm.
When officers first arrived, Stone led them to his underground cannabis farm, but made no mention of what had been buried on the property.
However suspicions against him grew, and police began a large investigation of the farm, using ground-scanning radar, specially-trained dogs and their own digger.
Finally, Stone told officers exactly where to dig and the remains of Brett Flournoy and David Griffiths were recovered - a month after being shot, buried and burned.
After four hours' deliberation, the jury at Truro Crown Court found Haigh guilty of both murders - Ross Stone was acquitted of murder but earlier he had admitted two charges of obstructing a coroner by burying the bodies.
Haigh was jailed for life and will serve a minimum of 35 years.
Stone has been sentenced to five years in prison.