Warm weather brings South West rescue surge for RNLI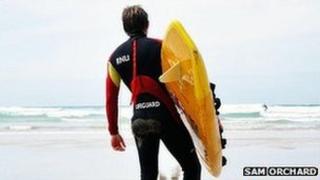 Lifeguards in the South West have had the second busiest year on record which could have been caused by the warm weather, the RNLI has said.
In 2011, lifeguards helped 13,639 people on 94 beaches. Lifeboats also rescued 1,571 people.
The charity believed warm weather in April and October had caused more people to visit the coast.
Beaches with the highest number of incidents were in Cornwall, with 827 people assisted at Perranporth.
In 2011, the Met Office recorded high temperatures for lengthy periods; including the warmest April and spring on record, the second warmest autumn and the warmest October day.
Adrian Carey, from the RNLI, said: "We had our busiest November in 20 years with 77 lifeboat call outs around the South West."
August remained the regions busiest month, the charity added.
In Devon, 463 people were assisted by the lifeguard team at Woolacombe and the Plymouth lifeboats were launched on 118 occasions.
In Cornwall, the Newquay lifeboat was launched 102 times.
The charity said in 2010, lifeguards in the South West had their busiest year on record with 14,709 people being assisted.