London 2012: History of the Cornish air base hosting the Olympic flame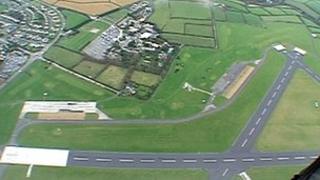 Cornwall's Royal Naval Air Station (RNAS) Culdrose, which has been chosen as the entry point into the UK of the Olympic flame for this summer's Games, celebrates its 65th anniversary this year.
After the flame arrives at Culdrose on a British Airways aircraft, it will then go to Land's End.
From Land's End, it will set off on 19 May on a 70-day, UK-wide relay to the stadium in Stratford on 27 July for the Games' opening ceremony.
Culdrose, famous as the base where Prince William did his helicopter training, was first considered as a military airfield site in 1942 during preliminary surveys.
The base, on Britain's most southerly point, the Lizard Peninsula, opened in 1947 with an operational expectancy of just 10 years.
However, it has expanded to become the largest helicopter base in Britain, and one of the largest in Europe.
It is home to about 75 aircraft, including many Royal Navy Merlin and Sea King helicopters.
They are used for training and deployment in a variety of roles, including anti-sumbarine, anti-surface warfare and airborne surveillance.
Its aircraft and crews have recently seen deployments to Afghanistan, helping seize drugs with estimated street values of millions of pounds, and explosives believed to be destined for insurgents.
However, as well as its international duties, the facility - also known as HMS Sea Hawk - is very proud of links to its home county.
The base, near the town of Helston, has 3,000 personnel, is a major employer, and pumps an estimated £100m into the local economy every year.
Its annual Air Day, usually held in July, is a major date in the county's events calendar.
And although the days are the only time when members of the public are allowed on site, its domestic influence is felt beyond Cornwall.
Its 771 Search and Rescue Squadron is on year-round stand-by to assist in land and sea rescues throughout the south-west of England, as well as into the English Channel and the Atlantic Ocean.
The squadron - known as the Ace of Clubs - has been operating for nearly 50 years, with its aircraft scrambled at least 200 times a year.