Safety shackles stolen from RNLI's Fowey lifeboat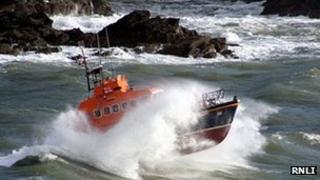 Thieves who stole vital safety equipment from a lifeboat in Cornwall put the lives of volunteer crew members at risk, the RNLI has said.
Four stainless steel shackles, which secure the safety rail to the boat, have been stolen from the RNLI station in Fowey over the past 10 weeks.
Each of the four thefts happened at night when the all weather lifeboat Maurice and Joyce Hardy was moored.
The cost of replacing the equipment will be £600.
The RNLI said that since the theft of the shackles, the lifeboat had been called out twice in weather conditions where the use of the safety rail had been vital.
Carl Gudmunsen, a fourth generation volunteer crewman, said: "I am shocked and disappointed that some people would place volunteer crew members lives at risk by committing these crimes.
"Both of our most recent shouts have involved several hours at sea with crew members working out on deck in sea conditions which would endanger their lives without the use of the safety rails.
"Fowey as a community works very hard to pay for the upkeep and maintenance of our lifeboats, both of which we are very proud of."
The cost of replacing the four stolen shackles could have paid for two new life jackets for Fowey's crew.