Council approves £2.4m for Cornwall subsidised bus routes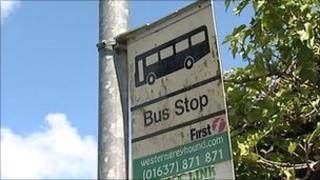 Cornwall Council has approved a budget of £2.4m over the next two years to make up for a government funding shortfall in subsidised bus routes.
Last year bus operators warned that up to 70% of subsidised routes faced cuts.
However, the council admitted that despite the new funding, it "couldn't guarantee prices won't go up".
It is also to ask the government if it can trial a 50p charge to free pass holders to further help subsidise services.
Councillor Graeme Hicks, cabinet member for transport, said the extra funding was "a positive step for Cornwall".
He added that he wanted the council to look into ways of developing community transport schemes run by voluntary organisations as a way of securing other measures of funding beyond 2014.
Mark Howarth, from Western Greyhound, said the extra funding was "particularly good news for the public".
He said: "We've been saying all along the importance of bus services to the people of Cornwall, and I think that has been recognised by virtually all the councillors that they voted for extra money.
"We will only put fares up if we have to. But, with the reduction in fuel duty rebate, with the cost of fuel going up, tyres, insurance, all these things are escalating beyond belief.
"We will keep our fares as low as possible, but inevitably they will have to rise."