Cornwall horse mutilation inquiry draws blank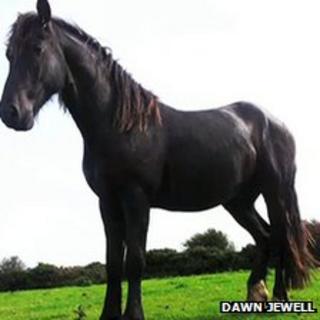 Police have drawn a blank so far in their investigation into the death of a horse which was found badly mutilated in a Cornwall field.
The stallion, called Erik, suffered severe injuries to its head and body at Stithians.
The two-and-a-half-year-old horse was attacked between 8 and 9 January.
Police are waiting for the results of toxicology tests on the horse and say they are still hopeful of catching the attacker.
Investigating officer Insp Chris Strickland said: "We are no further forward.
"We've followed up almost all lines of inquiry and have drawn a blank.
"We are taking the investigation very seriously. It would be great to catch whoever did this."
Horse struggled
He said investigations suggested more than one person was involved in the attack on the horse, which had been sedated.
Insp Strickland said: "The horse did struggle at some point. Whether it was before or after they sedated it, we do not know."
He said that he had received more calls from the public about the case than any other in his 24 years as a policeman.
"We know how concerned people are about this case," he said.
"For anyone to attack an animal like this is quite shocking."
He said the force was keeping an open mind about the reason for the attack, including ritual killing "but it could just be a nutcase".
Devon and Cornwall Police have been advising horse owners to improve their security.