Newquay Beach Nightclub faces licence review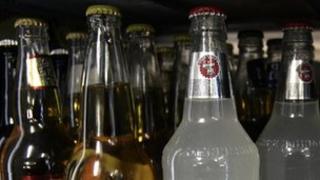 A nightclub in Cornwall is to have its licence reviewed following a series of violent assaults at the venue.
There have been three "glassing" attacks involving glass bottles at The Beach Niteclub in Newquay in the past 12 months.
One of the club's licensing conditions is that alcoholic and soft drinks have to be served in plastic or toughened glasses.
The club has declined to comment. Its licence will be reviewed on Wednesday.
The review will be carried out by Cornwall Council's licensing committee at the request of Devon and Cornwall Police.
'Big problem'
The assaults involving glass bottles took place in the club in May, June and September last year and one victim - a female holidaymaker - was permanently scarred.
The police said it highlighted concerns the force has about the continued use of glass in pubs and clubs in Newquay.
Insp Ian Drummond-Smith said: "We're trying to introduce plastic bottles into pubs and clubs in Newquay, but I'm told all the really popular ranges at the moment aren't available in plastic.
"That's a real big problem because the clubs are saying they don't want to reduce their biggest ranges."
Heineken, one the UKs biggest drink manufacturers said while many of its "big sellers" were available in plastic, it was "impossible to do" on a practical basis for smaller, imported brands.
Neither of Cornwall's two main real ale brewers - St Austell Brewery and Sharp's Brewery - currently use plastic bottles.
"We're not producing alcopops, but real ales which would be a very limited market in night clubs," a spokesman for St Austell Brewery said.
Cornwall Council said under licensing restrictions, if a customer ordered a bottle of beer that was not available in a plastic or toughened bottle, it would have to be decanted into a plastic or toughened glass.
For more on this story watch Inside Out on Monday, 23 January on BBC One in the South West at 19:30 GMT.