NHS Cornwall in Telehealth 30,000 patient target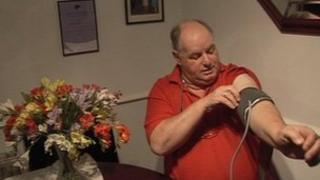 The NHS in Cornwall has said it wants 30,000 patients to benefit from the Telehealth programme in the county over the next five years.
Telehealth computers check peoples' vital signs and send data to medical staff, who can intervene if necessary.
Cornwall was one of several sites to trial the remote healthcare technology, with 1,000 patients taking part.
Dave Tyas, the Telehealth manager for the county, said 30,000 was "ambitious" but he wanted the county to benefit.
Mortality reduction
He said: "As its early pioneers, we are determined to stay ahead of the game and ensure that as many local patients as possible benefit from this.
"What we're trying to do is providing services to keep people in their own homes so they don't have to travel unnecessarily.
"It's not about saying to people you don't go and see anyone face to face, far from it, it's making those trips much more appropriate."
Telehealth monitors vital signs such as blood pressure and oxygen levels and reports back to clinicians who monitor the readings each day.
Reducing costs
Statistics from the trial showed that there was a 15% reduction in A&E visits and a 45% reduction in mortality rates.
Joe Barr, who has diabetes, heart failure and a lung condition, said: "It's given me the opportunity to understand my health and my body, because at the end of the day I'm responsible for my body."
NHS Cornwall said it hoped to expand the scheme into remote consultations, enabling patients to speak to consultants over a video link.
Mr Tyas said he was confident that the scheme would help save the NHS money by "improving patient care and keeping them out of hospital".
Telehealth trials have also been run in Plymouth and Torbay in Devon.