Serco agrees Bude trial of out-of-hours GP care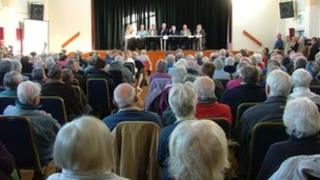 Weekend medical clinics will be run in Bude for three-months following concerns about out-of-hours GP care.
Serco, which provides the service, had moved its Bude-based night-time and weekend GP cover to Launceston, 22 miles away.
Residents complained the distance delayed the service.
Serco said it would operate clinics on Saturday and Sunday mornings in Bude for three months. A car will also be based at the community hospital.
'Step forward'
Serco moved the out-of-hours car and doctor, without public consultation, from Bude-Stratton Hospital to Launceston Hospital.
But in "response to peaks in demand" it said it had decided to return and monitor the service over 12 weeks.
Karl Cole of Serco said: "The PCT (primary care trust) was also able to provide additional data and information which has helped in reviewing the service to meet the needs of the local communities in North Cornwall."
After the three-month trial, a full review and consultation with the trust will take place to agree the requirements of the service.
Dan Rogerson, Liberal Democrat MP for north Cornwall, said: "It's a real step forward.
"I think we need to make sure we've got the balance right so that people in Stratton and Bude and the surrounding parishes know that they are getting a similar level of services to that across the rest of Cornwall."