Restored train line from Trevarno to Truthall Bridge gets 1,000 passengers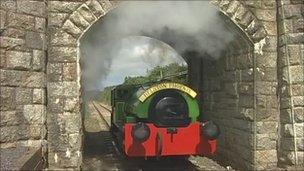 A railway line which opened to the public before Christmas after volunteer restoration work has had more than 1,000 passengers using it.
Helston Railway Preservation Society (HRPS) opened the line from Trevarno to Truthall Bridge in December.
The line was taken out of operation in 1965 as part of nationwide cuts recommended by Dr Richard Beeching.
HRPS has so far laid just under a mile of track and created a station platform at Trevarno.
Richard Barnes from the society said: "It was absolutely tremendous. We thought about the numbers we might get and suddenly we doubled and tripled that."
The line has taken five years and £60,000 to build.
The group hopes eventually to create a mile (1.6km) of line and run trains to timetable.
Related Internet Links
The BBC is not responsible for the content of external sites.