Charity calls for Bude sea pool help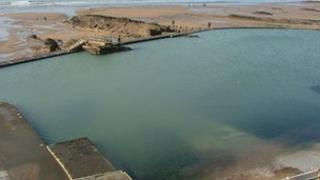 The group running a 1930s-built sea pool in north Cornwall is appealing for extra funds so the attraction can reopen for Easter.
The friends of Bude sea pool say they need help with a number of projects which must be funded and completed by 1 April.
The chairman of the friends, Paul Tilzey, says replacing the sluice gate will cost thousands of pounds.
It was upgraded by the former North Cornwall District Council in 2005.
To keep the pool at Summerleaze Beach in Bude going, the fundraisers say they have to raise £50,000 a year for the next 10 years.
Mr Tilzey said it was vital "we keep it because it is an iconic structure for Bude and the whole of Cornwall".
"It has to stay," he added.
'Now or never'
Fay Hargreaves from the group said: "We've got to get the contractors on board and get the work done before the 1 April. We also need someone on board for the health and safety side too.
"It's going to be now or never if we don't get this done by 1 April."
In September the group announced plans to build beach huts at the sea pool to raise funds.
Deb Rosser from the friends said: "We now have a waiting list and we're in the process of instructing a local contractor to come down and build traditional beach huts which would withstand the weather conditions we have at the pool."
In August a Cornish brewery said it was launching a new ale, called SOS, to raise funds for the sea pool.