Flights from Penzance to Scilly to continue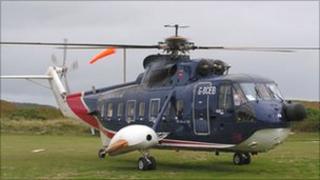 British International Helicopters (BIH) is to continue flying to the Isles of Scilly from Penzance for several months longer than expected.
The service had been expected to move to Newquay Airport in the summer.
BIH has said it will continue to operate from the west Cornwall base until the end of October.
The company has negotiated the extension with Sainsbury's, the supermarket which will be taking over the Penzance site.
BIH managing director Tony Jones said they were giving customers "certainty regarding our 2012 flight arrangements" and reassurance that the service would be "uninterrupted from Penzance for another season".
Last November, the helicopter firm dropped a plan for a new base at St Erth, near Penzance.
BIH faced opposition from villagers worried about noise and pollution.
The company had been due to leave its current Penzance base in June and fly out of Newquay until a permanent base was found.