Loggerhead turtle washed up in Cornwall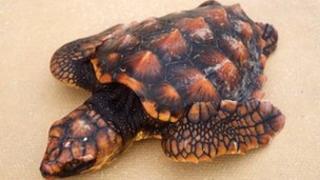 Beach walkers are being urged to watch out for loggerhead turtles after one was discovered dead near Bude.
The turtle, thought to be the first washed up in Cornwall in 2012, was just 26.5cm long.
The Marine Conservation Society (MCS) said the young turtle was spotted by a couple out walking along Widemouth Bay.
It could play an important part in finding out more about the long distance ocean travellers.
The loggerhead turtle, listed as an endangered species, is the 215th to be found in the UK and Ireland.
Shelter urged
The couple reported it to MCS via the UK Turtle Code for reporting marine turtle sightings.
The charity has urged walkers to get in touch with sightings of turtles, after some rare Kemp Ridley and green turtles were found on beaches in Wales and Scotland over the Christmas period.
Dr Peter Richardson of the MCS said: "It's possible more turtles will be washed up. We would ask people to keep their eyes peeled for stranded turtles.
"Please don't throw them back in the sea but get them away from the water in a sheltered place, preferably in a cardboard box out of draughts - stranded turtles can appear dead but may still be alive and can be rescued.
"However, if they have died they are also useful to us for post-mortem research."