Newquay's Blue Reef Aquarium stock take is under way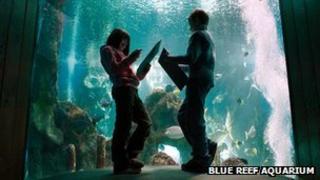 The annual stock take of an aquarium in Cornwall is under way to find out how many animals it has.
Sharks, rays and seahorses at Newquay's Blue Reef Aquarium are being counted in the week-long survey.
The 2011 stock take showed there were 1,462 animals of 218 species at the aquarium.
Curator Matt Slater said: "We expect the number to be slightly higher this year, after having lots of arrivals and births."
Jenni Collins, from the aquarium, added: "January has traditionally always been the time of year when we do an official check on all our stock numbers.
"Obviously some creatures will be rather easier to count than others; the sharks are usually fairly straightforward, although there are a number of species that like to spend much of their time either hidden among the rocks or under the sand.
"Seahorses can be a little tricky and hermit crabs are always something of a 'guesstimate' as it's difficult to tell which shells are inhabited and which are vacant," she added.
Staff at the aquarium have been doing the official check while visitors have been encouraged to help, with the most accurate children winning prizes.
The count takes place between 7 - 15 January.