Cornwall horse mutilation probe continues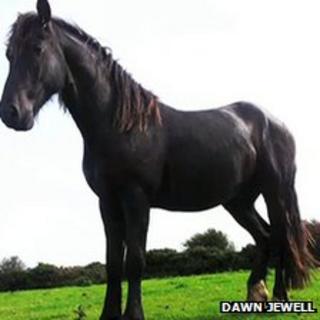 Investigations are continuing into the death of a horse which was found horrifically mutilated in a field in Cornwall.
The two-year-old called Erik suffered severe injuries to its head and body.
An initial post-mortem was conducted by a vet at the scene near Stithians and a forensic examination is expected to be carried out later.
A Devon horse lover has offered a £2,000 reward for information leading to the capture of the attacker.
Graham Rickard said: "It's a poor defenceless animal and it's a sick crime. I hope they get caught."
The horse, which was two-and-a-half, was attacked between 16:00 GMT on Sunday and midday on Monday.
Erik's owner Dawn Jewell, who had raised him from a foal, said she had lost "her baby", a Friesian horse she had been wanting since she was a child.
Animal lovers, including the BBC horseracing presenter Clare Balding, have been making their feelings of horror known in large numbers via Twitter.
Maureen Rolls, of South West Equine Protection, said it was the worst case of horse mutilation she had seen in 30 years.
"It's appalling. We have had cases of cutting the hair on manes and tails, but this is beyond that.
"I can't understand how anyone could do this.
"Killing an animal is one thing, but to go through all that is beyond belief."
Dawn's mother Vivien Allaway said that the family had been buoyed by support in hundreds of emails.
"All horsey people are coming together," she said.
"All of Dawn's hopes and dreams were tied up in that horse and they have been dashed."
'Sickening crime'
Det Insp Tony Blatchford said it was one of the worst incidents of cruelty to a horse he had dealt with and he warned all horse owners in rural areas of the county to be vigilant.
He said: "This is a particularly sickening crime.
"Detectives are following lines of inquiry to try to identify the offender and I'd ask all horse and livestock owners to be particularly vigilant and report anything suspicious to police."
Dyfed-Powys Police have confirmed they are investigating an attack on a pony in Carmarthenshire on 5 January which saw the animal suffer similar injuries to Erik.