Mutilated horse killed in Stithians field attack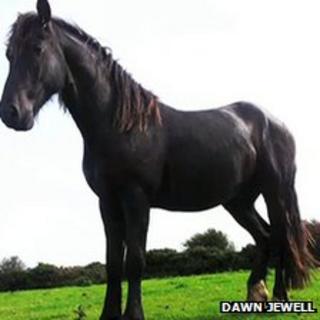 A horse has died after being horrifically mutilated in a field in Cornwall, detectives said.
Devon and Cornwall Police said the tortured animal died from severe injuries to its head and body.
It is thought the stallion may have been sedated before the attack in Stithians. A mare and a foal in the same field were left unharmed.
Owner Dawn Jewell said her horse's death had left her "devastated and angry".
'Animal' attack
"Why would someone be so nasty and do that to a beautiful animal who's never done anything," she said.
"It's just gutting... I've had him since he was a foal."
When she first saw the horse, her initial thought was that he had been attacked by an animal - either a fox or a badger.
She was upset, but being told by the vet the horse's injuries had been caused deliberately with a knife "made it 10 times worse".
Ms Jewell said the mare who was in the same field with her foal was unharmed, but "snorting and petrified".
Forensic searches are being carried out in the area and a vet will perform a post-mortem exam later.
The horse, which was two-and-a-half, was attacked between 16:00 GMT on Sunday and midday on Monday. Anyone with information has been asked to contact police.
Vivien Allaway said when she went to the field to be with her daughter, the brutality of the attack on the horse had shocked her too.
"It was the worst thing I've ever seen... and I don't wish to see anything like it again," she said.
"To lose him like this is total devastation for Dawn," she said.
"This horse was the love of her life - he was her absolute favourite.
"The poor girl is absolutely beside herself."
Det Insp Tony Blatchford said it was one of the worst incidents of cruelty to a horse he had dealt with and he warned all horse owners in rural areas of the county to be vigilant.
The RSPCA said one of its officers would be examining the horse with the vet to try to find out more details about the attack, including whether the mutilation happened before or after the animal died.
"This is a shocking incident and I cannot imagine what would cause someone to carry out such a cowardly and barbaric act," a spokeswoman said.
"I would urge anyone with information to contact either the police or the RSPCA."
Vanessa Gilbert from the Devon and Cornwall Horse and Pony Association said there had been a recent knife attack on a horse in Wales, but she was unaware of anything similar in the South West.