BBC Stargazing Live visits Cornwall's Eden Project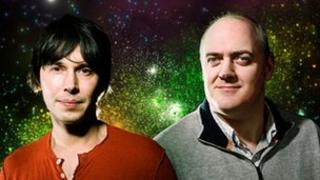 The BBC television programme Stargazing Live will be visiting Cornwall on 17 January.
Last year about 40,000 people took part in Stargazing astronomy activities in the UK.
Stargazing Live will be broadcast over three nights and will feature the Eden Project in the final programme.
The attraction will give late-night visitors a chance to look closely at the county's skies, with expert advice about what to look out for.
Visitors will be able to find out more about the galaxy by taking a look at the stars through a variety of professional telescopes on 17 January.
A portable planetarium will be on site to allow visitors to see distant corners of the universe.
There will be live feeds from observatories around the world and talks from experts on the basics of the night sky, the life and death of stars, photography of stars and planets.
For younger astronomers there will be a workshop about the locations of the moon landings and astronomy-themed colouring in.
Dara Ó Briain and Professor Brian Cox will present Stargazing Live on BBC One from 16 January at 20:30 GMT.