'Guerrilla knitters' head to New York with their art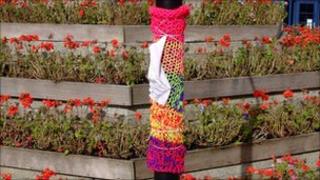 Guerrilla knitters who have brightened up Cornish towns as part of a new craze known as "yarn-bombing" have been invited to show their work in New York.
Knitted cosies started appearing on lamposts, signposts and benches in 2011.
But the "craftivists" who have said they want to remain anonymous, have now been invited to New York by the magazine Vogue Knitting.
The practice is believed to have originated in Texas.
The group of knitters has refused to reveal their identity but have said they come from towns like Camborne and St Buryan in west Cornwall.
They design and make knitted art which is then left in Cornish town centres.
One of the knitters told BBC News: "It's great fun, we go out in the middle of the night and put up knitted stuff. The bus driver in Mousehole rumbled us, but people are sworn to secrecy."
The magazine, Vogue Knitting, heard about the secret group and has invited them to a knitting show to be held in Manhattan.
The secret knitter said: "We couldn't believe it. They did a search and got in touch with us through Facebook.
"We thought they were hoaxing us so we ignored them. Then they came back and we thought maybe it was true."
Vogue Knitting Live will be held in Midtown Manhattan at the Hilton New York.
The Cornish knitters will swap their Cornish destinations to be just minutes away from the Broadway theatres and Times Square, from 14 January.