Community opens new shop and post office in St Eval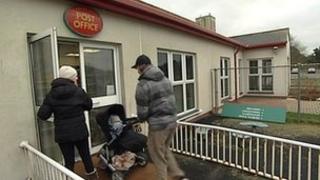 A new shop and post office have opened on a former Ministry of Defence (MoD) housing estate in a hamlet in Cornwall.
After the RAF withdrew from St Eval, there was uncertainty about local services, as the MoD had other plans for buildings that housed them.
The new facilities have opened after two years of work from a local action forum to reach a deal with the MoD to use other buildings it owns.
A community centre, hairdressers and social club have also opened.
The RAF withdrawal from St Eval was part of work which saw the nearby St Mawgan air base mothballed in 2009.
'Many visits'
Barbara Hough, of the St Eval Area Community Action Forum, said many agencies had been involved in creating the new facilities.
She said: "There were many visits to Westminster to have meetings with the MoD, as well as working with our MP and local councils.
"There was also an awful lot of hard work by volunteers."
But postmistress Brenda Bridges said the effort to ensure such amenities were available to the 300 homes in the area had "come together fantastically".
She said: "We've got there. To see everybody coming in, it's been worth it."