Round-the-clock repairs in Falmouth for cruise ship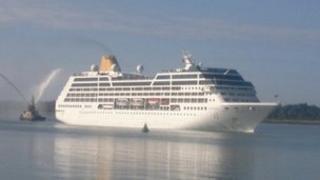 Workers at a Cornish shipyard have been given four days to complete emergency repairs on P&O's newest cruise ship.
The Southampton-based Adonia is due to arrive at Falmouth Docks over the weekend but needs to sail next Friday.
One of the directors for A&P Falmouth, Peter Childs, said it would be a 24-hour-a-day job to complete the work.
The 30,000 tonne ship, which can carry up to 710 passengers, is scheduled to begin an 87-night world cruise on 13 January, leaving from its home port.
The Adonia is calling in to the port to undergo unscheduled repairs.
David Daniel, A&P's Commercial Director, said: "We have given a big commitment to complete the work within four days, and we will work around the clock to get it finished on time.
"As this is an unscheduled docking, we have had to re-shuffle other vessels in the docks - with the approval of their owners - to accommodate Adonia at last minute."
During its stay, the Adonia will be highly visible on the Falmouth skyline and is expected to tower over the docks.