Truro River girl speaks to her rescuer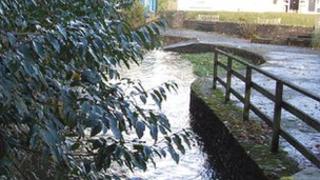 A woman who fell into a river in Cornwall nearly 40 years ago has been reunited with the man who saved her.
Susan Eggerton, 40, was three years old she she fell into the River Allen in Truro in 1974.
As she was swept away under the roads of Truro, she was spotted by Keith Stephens who initially thought she was a doll.
When he realised it was actually a little girl, he jumped in to rescue her, breaking his leg in the process.
The only thing that kept Susan alive was her anorak, a puffer jacket that had inflated with air.
Mrs Eggerton said: "Mr Stephens was fishing on a bridge, jumped in, broke his leg as he did it, to rescue me."
He later became the young girl's godfather, but over the years the pair lost touch.
'Like yesterday'
Mrs Eggerton said: "My mum died when I was nine, after which I moved to Shropshire and I lost contact with all my family in Cornwall through time."
Two years ago her auntie came up and left a note on her mother's grave with a phone number.
Mrs Eggerton got back in touch with some of her family, and started a search for Mr Stephens, contacting BBC Radio Cornwall for their help.
The pair have now been reunited over the phone and plan to meet up later this year.
Recalling the incident, Mr Stephens said: "She was all inflated by her anorak. I didn't think about it at the time, you just do it don't you.
"We went to the christening and I haven't seen her since.
"I was talking to my family last year and I was saying then we should find out where Susan was. I have never forgotten it. It's like it was yesterday."
Mrs Eggerton said: "I can't thank Keith enough. I wouldn't be here if it wasn't for him."