Sewage leaks on to Sennen beach in Cornwall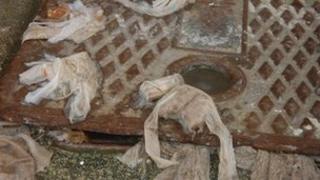 Residents of Sennen Cove in west Cornwall say a drain which started leaking raw sewage on to the beach before Christmas has not been fixed.
The leak, which runs around the Sennen Lifeboat station, contains human faeces, condoms and sanitary towels.
Locals have said they fear it will hurt tourism in the seaside resort and the waste could harm bathers.
South West Water said it had sent a team to "clean up the area".
Resident Nigel Ault said: "It's been blocked since before Christmas. It's one of busiest tourist weeks and it doesn't look good for the village.
"It's not good for surfers or for swimmers."
Dom Ferris, from campaign group Surfers Against Sewage, said: "It's coming straight from a manhole cover, the sewage is coming straight from the toilet, it's totally untreated.
"It's coming out where people are playing at the bottom of the slipway.
"We are retching standing next to it. There are faeces, tampons, and face wipes, it's disgusting and it carries nasty pathogens which cause horrific illnesses to people."
South West Water said in a statement: "We are investigating to establish what caused the problems at Sennen Cove seafront following heavy rainfall this morning.
"In the meantime, we have sent a team to clean up the area."