Cooking timers trial for Falmouth's elderly residents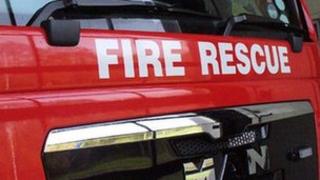 Cooking timers are being given out to elderly residents in Falmouth as part of a pilot scheme to reduce firefighter call-outs.
Cornwall Fire and Rescue Service found they were being alerted to several instances where toast had been burnt, or food was left on the hob.
The timers can be carried around the house to remind the resident to keep a check on their cooking.
If successful, the timers could be rolled out across Cornwall.
Funding has come from Falmouth Town Council and Cornwall Council member David Saunby's Community Grant fund.
Cooking fumes
A number of residents in the Falmouth area will benefit from this new scheme, including those in Chy Nampara, St Johns Court and Tregaer Flats.
Martin Mellor, from Falmouth Community Fire Station, said: "Not only could the timer save residents from the possibility of being overcome by cooking fumes which could have very serious consequences, but it would also reduce the number of times that fire appliances are mobilised to these types of incidents as the timer would wake them before they burnt their meal."
The move follows a number of automatic call-outs when people have forgotten they have been making meals.
About 350 of the timers are being distributed in the Falmouth trial.
Falmouth councillor Geoffrey Evans said: "Falmouth Town Council gave a grant for £400, which they thought was a well-worth cause that could save lives and the fire service time and money."