Ship crew member dies as Cornwall hit by high winds and rain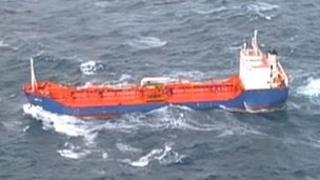 A man has died and two others have been airlifted to safety after their small tanker was hit by a wave in the English Channel in severe weather.
Falmouth Coastguard and RNAS Culdrose confirmed the men were airlifted from the Annie PG at about 11:40 GMT.
Two men were taken to the Royal Cornwall Hospital. A third crew member taken to Derriford Hospital died.
Elsewhere, two schools were closed and ferries and train services disrupted as winds of up to 70mph hit the county.
'Pitching and rolling'
Lt Cdr Florrie Ford, who was involved in the rescue, said: "[It was] quite choppy, waves probably hitting about 30 feet, 40 knots of wind.
"There was a lot of water spraying over her deck and running through the deck. She was getting thrown about quite a bit, pitching and rolling.
"I believe something had come loose or required securing, and the vessel got hit by one of these very large waves, and they were thrown across the deck."
In a statement, the company which owns the Annie PG, Pritchard Gordon Tankers, said: "Our thoughts and prayers are with his family, colleagues and friends and we would like to express our heartfelt condolences at this most difficult of times.
"MT Annie is in a fully seaworthy condition and is proceeding to Falmouth where she will arrive later this evening."
Elsewhere in the county, Western Power Distribution reported that about 650 properties remained without power in the South West, with Nancledra School and St Meriadoc Infants School closing as a result.
Earlier in the day the Tamar Bridge was closed to high-sided vehicles, but those restrictions have now been lifted.
First Great Western said its rail services between Truro and Penzance were being hindered by an obstruction blocking "all lines" and the Cremyll, St Mawes and Flushing ferries have all been cancelled.
Flights from Land's End airport and Penzance Heliport have been disrupted and flights from Newquay to Gatwick are delayed.
There are unconfirmed reports of a boat being sunk in Newquay Harbour.
The Lost Gardens of Heligan near St Austell and Trelissick Gardens at Feock have been closed because of the storms.
There are flood alerts on the Lynher and the River Tamar.
The enhanced content on this page requires Javascript and Flash Player 9
Map Key
Land
Cloud
Lakes, Rivers & Sea
Fog
Light
Heavy
Frost
Light
Heavy
Pressure Fronts
Cold
Warm
Occluded
Rain
Light
Heavy
Extreme
Snow
Light
Heavy
Temperature tab only
Temperature (°C)
More details from BBC Weather