Libya blast photographer Guy Martin hosts display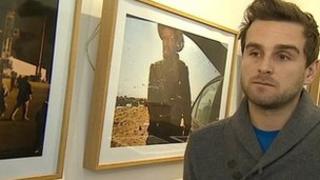 A photographer seriously injured in the Libyan uprising last year is preparing to stage an exhibition of his war photographs.
Guy Martin, from Falmouth, Cornwall, was severely injured during a rocket attack by Gaddafi loyalists in Misrata.
Two of Mr Martin's friends and colleagues were killed in the same attack.
Mr Martin, who was working with Panos Pictures agency, will display photos at The Poly, Falmouth, from 9 January.
The 28-year-old suffered serious stomach and leg injuries in the blast.
Liverpool-born Tim Hetherington, 40, and American Chris Hondros, 41, died in the Misrata attack on 20 April.
'Never hear anything'
Mr Martin said: "I had been in Misrata for a few days. There was the hecticness of the fighting in the morning but in the afternoon it was eerily quiet. That's what I remember.
"You get used to the different sounds, and how close the bullets come to you.
"They say if the rocket's really close you never hear anything. I didn't hear anything. I just remember falling to the ground and then waking up in hospital."
He underwent surgery in Misrata before being taken to the island of Malta.
Mr Martin was then transferred to the Royal Cornwall Hospital in Truro. He was released from hospital in June and has been recovering at home in Falmouth.
He said: "When something like this happens it changes your perception, the things you wanted to do.
"It certainly is going to make me think a lot more about what I cover and how I cover these things."
For the first time since the attack, Mr Martin is presenting an exhibition of work he produced during his time in Egypt and Libya prior to the attack.
The event is being hosted by University College Falmouth.