Crewman killed as Devon battered by storm force wind and rain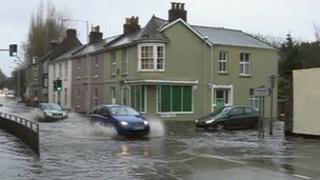 A man has died in Devon after a small tanker was hit by a large wave in the English Channel.
Falmouth Coastguard said three men were airlifted from the Annie PG earlier.
Two men were taken to the Royal Cornwall Hospital. A third was flown to Derriford Hospital where he was pronounced dead.
The Met Office issued a severe weather warning for storms across Cornwall and Devon with winds of 72mph recorded in Plymouth.
It said high winds had affected parts of Dartmoor, Exmoor and exposed parts of southern Devon.
Devon Fire and Rescue Service said it attended several weather-related incidents.
Firefighters rescued an adult and child from a car that had become stuck in floodwater at Newlands Bridge, North Tawton at about 10:10 GMT.
'Expect the unexpected'
Less than an hour later fire crews rescued a woman and two children at the same location, from their vehicle which had become stuck in 1m (3ft) deep floodwater.
A woman and three children were also rescued on a road between Collumpton and Plymtree when their car also became stuck in floodwater.
The Tamar Bridge was closed to high-sided vehicles earlier, though those restrictions have since been lifted, and Billacombe Road in Plymouth was also shut because of an unsafe building.
Western Power Distribution said about 1,000 properties had lost power across the South West.
Devon County Control said 16 teams had been dispatched to clear trees and debris from the roads.
Hugh Griffiths, from Devon County Control, said: "Expect the unexpected, especially when you're driving around the little rat-runs from one A road to another A road."
The Torquay HiFlyer balloon was also badly damaged by high winds hitting the bay earlier this morning despite it being strapped down overnight.
The Environment Agency has issued flood warnings for the River Avon from Didworthy to Aveton Gifford, Doniford Stream at Sampford Brett, River Batherm at Bampton, River Dart from Buckfastleigh to Totnes, River Exe from Exford to Exebridge and the River Taw from Taw Bridge to Newnham Bridge.
There are also 31 flood alerts for the region.
The enhanced content on this page requires Javascript and Flash Player 9
Map Key
Land
Cloud
Lakes, Rivers & Sea
Fog
Light
Heavy
Frost
Light
Heavy
Pressure Fronts
Cold
Warm
Occluded
Rain
Light
Heavy
Extreme
Snow
Light
Heavy
Temperature tab only
Temperature (°C)
More details from BBC Weather