Truro's park and ride users increase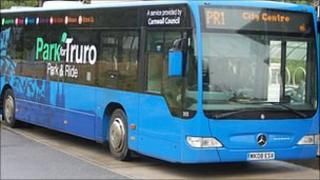 There has been a significant increase in the amount of passengers using Truro park and ride, according to a survey by Cornwall Council.
Figures released have shown that over the last year about 2,000 more people a month are using the facility.
The council's passenger survey revealed about 50,000 passengers a month use the service to avoid city congestion.
Cornwall Council's assistant head of transportation Tim Wood said it had "improved the city centre".
Mr Wood said it had made a "huge difference" in reducing traffic congestion in Truro.
Neil Scott, who is the business improvement manager for Truro, said: "It's in the right place for a huge amount of people who would traditionally drive into Truro and it is a good quality service."
Since the park and ride started in 2008 it has carried more than a million people.
Matt Ashton uses the park and ride scheme to travel to work at the hospital to "avoid sitting in the traffic" and thinks it is a "really good service".
Nearly 40% of the people using the park and ride are using it to get to work and a quarter of the passengers are using it for shopping.