Sport England grant for Camelford's leisure centre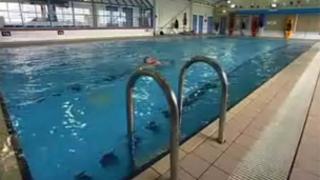 A £50,000 lifeline has been thrown to a troubled leisure centre in north Cornwall.
Supporters hope the grant, from Sport England, could safeguard the future of the centre at Camelford.
The future of the leisure facility has been in doubt since Cornwall Council decided to withdraw its funding from the Spring.
A spokesman for the centre said the grant would be spent on a biomass boiler and photovoltaic solar heating.
Since the council's funding withdrawal announcement, the number of staff has been reduced from eight to six and opening hours have been cut.
New types of membership schemes have been introduced which has seen income from that source go from under £500 a month to more than £2,700.
The mayor of Camelford, Rob Rotchell, said: "Great news. Sport England have given us the grant towards developing the infrastructure of the centre.
"We've just been informed we have got another grant of £7,000 from the East Cornwall local action group which will help us define our business plan and to ask the people of Camelford what they want from the leisure centre. "
Sport England said the Camelford grant had come from the National Lottery, money which has been earmarked as part of the legacy of next year's London Olympics.
The organisation said in the New Year it would be announcing a total of almost £200,000 for other sports organisations across Cornwall.