Newquay Harbour regeneration funding granted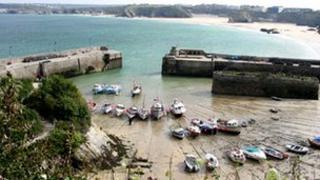 More than £800,000 has been secured to regenerate a Cornish working harbour.
Newquay Community Network helped with the funding bid, which will provide new facilities for fishermen and promote the town's harbour to tourists.
The new Treffry Centre will provide fishermen's storage facilities as well as office and training space.
A low water landing stage, lighting, signage and CCTV will also be installed. The money has come from the European Fisheries Fund (EFF).
It provided £700,000 with more than £100,000 from Cornwall Council's seaside towns programme.
The local authority's maritime manager Andy Brigden says: "This project is vital to ensure that existing and future fishing businesses and marine-related activity are actively encouraged, to grow and attract greater numbers of tourism visitors to the port.
"The success of securing the funding is a testament to the importance of Newquay Harbour as a working port and the contribution it makes to the local economy."
Geoff Brown, a local skipper, said: "This is fantastic news for the port of Newquay which has for many years suffered from a lack of investment.
"We have a thriving shell fishing fleet, the largest on the north coast, which indirectly employs in excess of 50 people.
"Hopefully the work will commence promptly so that our hard working fishermen can benefit from improved working conditions and safety facilities. "