Cornish food bank gears up for busy Christmas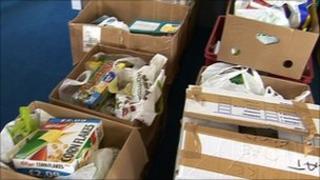 The food bank which serves people in need in Camborne, Pool and Redruth has said it is experiencing unprecedented levels of demand for its support.
It said on Thursday alone 90 families were supplied with food.
The Christmas Meal Appeal, run by the food bank, is supplying more than 170 families with Christmas dinners this year.
Volunteers have been busy packing the Christmas boxes, ready for distribution later this week.
The main organiser of the food bank, Don Gardner, said: "A local bakery had a transport problem. The supermarket rejected their pasties because they were late arrivals.
"The pasties were frozen and the bakery contacted me, so I have now got four pallets of frozen pasties."
The chairman of Cornwall Council, Pat Harvey, is among the many volunteers helping to prepare the Christmas boxes.
She said: "It never ceases to amaze me what the people of Cornwall do for the county.
"Hopefully people will have a lovely Christmas because of the work other people do."