Eden Project to hold first World Pasty Championships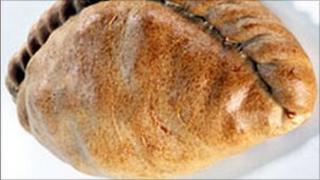 Cooks from around the world will head to Cornwall in March for the first World Pasty Championships.
The event will be held at the Eden Project, St Austell, to celebrate the popular local delicacy, which was given protected status under EU law earlier in 2011.
The Cornish Pasty Association, which is backing the event, hopes people locally and across the world will take part.
It will be held on 3 March, the Saturday before St Piran's Day.
The Cornish pasty has been associated with tin miners in the county, and was a part of many people's diets during the 18th Century.
The Oxford English Dictionary suggests the pasty was first identified around 1300.
'Original fast food'
Families in Cornwall have passed down the recipe for a Cornish pasty through the generations.
Phil Ugalde of the Cornish Pasty Association said: "If you know anything about Cornwall, you know that pasty-making is a very emotive subject.
"People feel very proud of it - this was the original fast food."
Gaynor Coley, managing director of the Eden Project, said: "The pasty is one of the great icons of Cornwall and also one of its best exports, carried in the hands of all those hardy mining families who left this coast and who took their skills - and their favourite food - across the world."
Judges will be looking for the best Cornish pasty made to the traditional recipe.
The Cornish Pasty Association, which had to come up with the "genuine" Cornish pasty recipe as part of its successful Protected Geographical Indication (PGI) application, said an authentic pasty should have a distinctive 'D' shape and be crimped on one side, never on top.
It said the filling should be "chunky, made up of uncooked mince or chunks of beef with swede, potato and onion and a light seasoning" before being slow-baked.
Variations on the pasty taken around the world by expatriates can be found from Australia to California and Mexico.
Separate competitions in the pasty championships will be held for alternative recipes hailing from different parts of the world.