Alfred Smith & Son of Penzance marks 200 years in business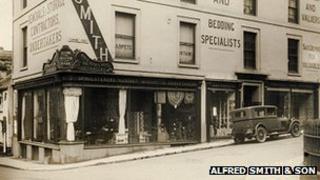 A west Cornwall furniture trader is marking 200 years in business.
Established in 1811, Alfred Smith & Son has traded from its current site in Penzance since 1840.
Alfred Smith & Son was recently named the oldest independent furniture retailer in the country in Cabinet Maker magazine.
Current owner Sue Wilkinson said she thought her great-grandfather would "still recognise the 21st Century version" of the business.
After Mr Smith joined the business as manager in 1909 and bought it from the previous owners in 1912, he was joined by his son in 1925. The company has remained in family ownership ever since.
'Constantly adapting'
Mrs Wilkinson said: "They would see a business that had progressed, but a business that they fully understood.
"Furniture has changed design but the structure of it is much the same as it was then."
Retail expert Mary Portas recently said UK High Streets had reached "crisis point" with the rise of super-malls, out-of-town supermarkets and internet shopping.
She warned town centres would "never return to their traditional image of butcher, baker, greengrocer and fishmonger".
Mrs Wilkinson and her husband Mark claim the key to their success is "constantly adapting to the changing market".
Mr Wilkinson said: "All the time as a business you have to reinvent yourself as best you can and not lose sight of your core values.
"We have to look at what our customers want. We know a lot of our customers by name, we've dealt with them in some cases for generations, and we enjoy what we do."