Government approves £16m for Camborne Redruth link road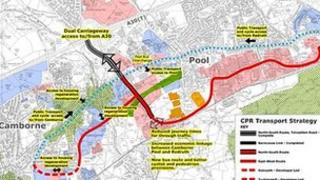 The government has confirmed £16m of funding towards a £27m road scheme in mid Cornwall.
Cornwall Council submitted plans for a Camborne-Pool-Redruth link road in September.
The council claims the scheme will create more than 5,500 jobs and 7,500 homes over 20 years and cut congestion and improve air quality on the A3047.
The announcement was part of an £850m investment in transport schemes across England.
The funding will be used to construct a new east-west link road from Dolcoath to Dudnance Lane across the Red River Valley and from Dudnance Lane to Wilson Way.
'Unlocks potential'
Graeme Hicks, Cornwall Council's portfolio holder for highways and transportation, said he was delighted "that the government has given its support to this scheme".
Mr Hicks said: "We have worked hard in competing against 44 other schemes nationally and the decision is good news for the future of the Camborne Pool Redruth area."
George Eustice, Conservative MP for Camborne and Redruth, has been pressing ministers to approve the scheme since his election in May 2010.
"This announcement is a fantastic result for the Camborne, Redruth area and unlocks the potential for thousands of jobs to be created in the coming decade," he said.
"I was pleased that, despite the economic mess that we have inherited, the government has found funds to invest in vital infrastructure improvements such as this one."