Exeter Museum reopens after £24m refurbishment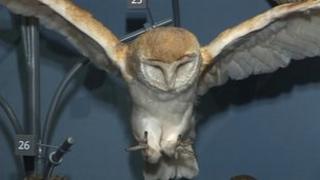 Exeter's Royal Albert Memorial Museum has reopened its doors to the public after being closed for four years for a major refurbishment.
The £24m makeover has been plagued with problems leading to delays and a 60% increase in the original budget.
Exeter City Council said the work and the cost of the museum revamp had been "totally worth it".
However, it added that it was seeking legal advice to recoup some of the money lost in the overspend.
Those behind the project said the reason for the refurbishment was to display more of the museum's archive collections at the same time.
Councillor Pete Edwards said people would be "totally surprised" when they visited.
He added: "A lot of the exhibitions have never been seen before as we couldn't show them in the old museum."
'World-class collections'
Museum manager Camilla Hampshire said: "We've always said this isn't about reinventing the museum as lots of people loved the museum as it was.
"Most of the objects will still be here, but there are also a lot of new objects."
She said the work had brought "out the museum's historic character" and "shows off our absolutely fantastic world-class collections".
One particular display includes early photographs from the Royal collections, which were started by Victoria and Albert.
Ms Hampshire said: "We are all absolutely thrilled".
"This is what it's all about, when the public finally get to come in and see all the displays."