Councillors decide against alternative waste plans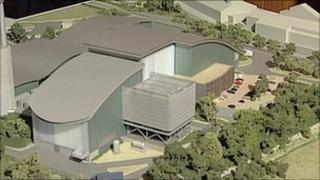 Cornwall councillors have decided to await the outcome of court action before examining alternative proposals for dealing with the county's waste.
Senior members had been expected to discuss their options in case Sita UK's bid for an incinerator at St Dennis near St Austell fails.
The company's bid for a waste-to-energy plant is heading to the Court of Appeal after a defeat at the High Court.
Opponents have long called for alternative approaches to the problem.
Julian German, Cornwall Councillor for climate change and the environment, said: "We've got a number of options that we need to take, such as whether we collect food waste and plastics from households as part of the new collection contract.
"In the short term we can divert waste away from landfill by putting in new ways of collecting waste and dealing with that seperately," he added.
It has been estimated the county will run out of landfill space within five years.
Thirty-year contract
In 2006, waste contractor SITA signed a 30-year-contract with the then Cornwall County Council to handle waste.
They came up with plans for an incinerator at St Dennis in mid-Cornwall, but in 2009 councillors rejected the bid.
SITA appealed against the decision which led to a public inquiry.
Secretary of State Eric Pickles later granted planning approval, which was challenged by protesters in the High Court.
In November, Mr Justice Collins ruled the environmental impact of the £117m plant had not been properly considered.
Mr Pickles has now lodged an appeal against that decision at the Court of Appeal, but it could be several months before a decision is made.
Opponents of the incinerator have argued the plant would be too big, in the wrong place and could cause health and conservation issues.
Cornwall Council said the St Dennis incinerator option was the best solution and have said in the past that developing an alternative would take years and be costly.