Cornish young farmer works with Nepal's youngsters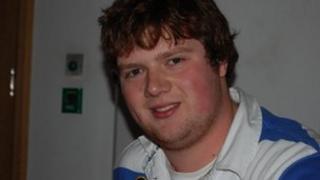 A young farmer from Cornwall will be spending Christmas and the start of 2012 in Nepal.
Matt Gluyas from Stithians will spend three months as an International Citizen Service (ICS) volunteer.
He will be working with the agency Restless Development which works with young people in 50 countries around the world.
Mr Gluyas said helping the Nawalparasi community could be "a life-changing experience".
"I have an ambition to help people, a big interest in global development and also a desire to travel," he added.
ICS is a new government volunteering opportunity open to young people between 18 and 22.
Volunteers are given the opportunity to make a difference in the poorest parts of the world, develop their own skills and experience, and gain an understanding of how development projects and volunteering can help improve the lives of others.
The scheme is largely funded by the government.
Development Secretary Andrew Mitchell says: "International Citizen Service volunteers like Matt will learn first-hand about the challenges faced by very poor communities in developing countries, and how their lives can be improved.
"By making this contribution these volunteers will show what a difference one person can make in the world."