Success for tiny island flower company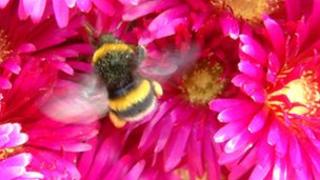 A flower company, run from the tiny island of St Martin on the Isles of Scilly has just marked its one millionth order.
Scent from the Islands was founded by a former metropolitan police officer from London.
Andrew Julian and his wife Hilary, invested their savings into Churchtown Farm which now sends out 90,000 boxes of flowers each year.
The island of St Martin has a population of about 100.
A series of unprecedented harsh winters, which destroyed their early crops, left the family almost penniless at the beginning.
Mr Julian said: "Within two years we had used up all our savings. But we were determined not to be beaten.
"I spent much of my childhood holidaying at St Martin's and we had our honeymoon here. We had tremendous local support."
St Martin's is one of five inhabited Scilly islands, in the archipelago that lies 28 miles off Cornwall's west coast.
Other businesses on the small Cornish island include one hotel, a pub, a guesthouse and a campsite. It also boasts its own vineyard.
Historically sales from the Isles of Scilly to mainland Britain can be traced back as far as the 1800s.
The warm north Atlantic drift flowing across the islands has created an sub-tropical climate which means scented flowers can be grown outdoors 12 months of the year.