Killer whales seen off Cornwall coast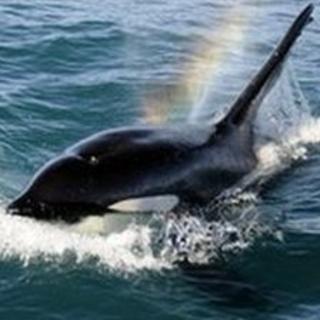 Two killer whales have been seen off a headland in north Cornwall, a naturalist has reported.
Dom Clarke, 25, saw what he believed was a mother and calf about 100m off Trevose Head, near Padstow.
Mr Clarke saw the whales on 26 November while walking his dog. He said he was "amazed" with his find.
A spokesperson from Cornwall Wildlife Trust said the species was an "occasional visitor" although it was not reported every year.
Mr Clarke lives on Trevose Head and runs an adventure business called Explore the Shore.
He saw the whales at about 11:30 GMT.
"At the time they were heading south along the coast about 100m off the headland and 500m from the beach. It was pretty special.
"I walk around the area every day and it was beautiful to see these large marine mammals off shore.
"I'm so interested in anything oceanographic and I've never seen them here before. I was just amazed to see them."
The wildlife trust confirmed there had been a few reported sightings of killer whales off Cornwall this autumn.
Killer whales are also known as orcas, can grow up to 32ft (9.7m) in length and weigh up to nine tonnes.
They are mainly found around Iceland, Norway and northern Scotland, but occasionally seen as far south as the Atlantic coasts of Spain and Portugal.