Cornwall NHS home health-check project rolled out in UK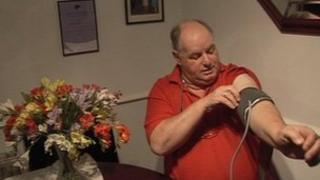 A medical scheme piloted in Cornwall, which enables patients to monitor their health from home is to be rolled out across the UK.
The prime minister said the Telehealth trial had reduced death rates by 45% and hospital admissions by 20%.
David Cameron said the scheme, run by NHS Cornwall and the Isles of Scilly, was "a great success".
The Telehealth computers check peoples' vital signs and send data to medical staff, who can intervene if necessary.
'Understand my health'
Joe Barr who has diabetes, heart failure and a lung condition said: "The aim of the game with this little machine is to keep me out of hospital and I recommend it to anyone with a long term condition.
"It's given me the opportunity to understand my health and my body, because at the end of the day I'm responsible for my body."
NHS Cornwall has run the pilot over two years and involved 1,000 people.
Carol Williams, director of service improvement for NHS Cornwall said: "It's much more cost effective to do the preventative work and it's much better for people's quality of life.
"For these patients we're spending less money on crisis intervention and them going into hospital which in turn releases more money to be spent on preventative programmes and earlier detection."