Prince appeals against Duchy of Cornwall tribunal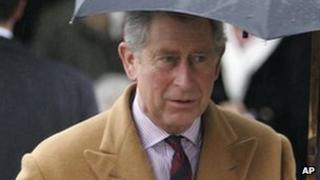 Prince Charles is appealing against a ruling which threatens to expose more information about the Duchy of Cornwall.
A Freedom of Information Act Tribunal ruled the Duchy is a public authority in a test case demanding more information about non-native oysters in the Fal and Helford Rivers.
For centuries the Duchy has claimed it was simply a private estate.
The Duchy confirmed it would appeal against the tribunal's ruling.
Fund-raising campaign
The Duchy estate was created to provide an income for the heir to the throne, an income today worth £17m a year.
An information tribunal ruled in November that the Duchy was a public authority under the Environmental Information Regulations (EIR) 2004 and so must divulge environmental data to the public.
The decision overturned an earlier judgment by the Information Commissioner in October 2010 that the Duchy was not a public body subject to the regulations.
A Duchy of Cornwall spokeswoman said: "The Duchy of Cornwall and the Attorney General to the Prince of Wales have sought permission to appeal the decision which found that the Duchy is a public authority for the purposes of the Environmental Information Regulations 2004."
Michael Bruton, the environmental campaigner who won at the original tribunal about oysters, said he plans to hold a fund-raising campaign to help pay for the next hearing.
There is no date for the prince's challenge.