Copper cable thief Keith Greaves electrocuted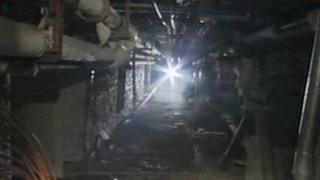 A thief was electrocuted while trying to steal copper cables and a boiler, an inquest heard.
Father-of-two Keith Greaves, 40, had gone with a friend to steal the metal from service tunnels under a former hospital in Bodmin, Cornwall.
But batteries for an electric saw failed and they tried to tap power from 240v cables powering dialysis machines.
A coroner recorded a verdict of accidental death at the inquest at City Hall in Truro.
The inquest heard that Mr Greaves used a connector to tap into cables in the tunnel which powered equipment at a nearby NHS renal unit.
But the connector was designed for car batteries and was only able to handle 12v of power.
He died at the scene under St Lawrence's Hospital on 25 April.
'Senseless waste'
Andrew Cox, Deputy Coroner for Cornwall, said: "I very much hope that anyone who has been here today or reads the reports gives cause to consider the perils of trespassing unlawfully on to a property and then engaging in an activity like this.
"It is an absolute tragedy that this has happened. It is a senseless waste of a young life."
Mr Greaves' friend Neil Knight told the inquest: "We had two batteries for the saw and we were trying to break up the tank.
"After the batteries ran out we stopped for 20 minutes for a break. We walked back through to a room where there were a lot of electrical cables.
"While he attempted to get power into the saw Keith took a grey cable from the side wall.
"He was going to use it to run an electrical cable off.
"I turned around to see in the darkness his torch illuminating from the floor. He was on his knees facing away from me."
Mr Knight unsuccessfully tried to resuscitate his friend and emergency services later declared Mr Greaves dead.