Paper bottle firm heads to Lostwithiel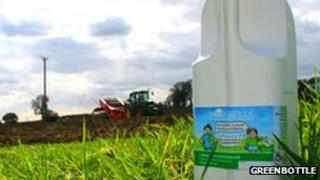 A Suffolk firm which makes paper milk containers for a Cornish dairy, has relocated to the county to expand into the wine and water markets.
The GreenBottle company is investing £2m in moving to the Restormel Industrial Estate in Lostwithiel in mid Cornwall.
The company is installing a state-of-the art plant.
The move means the product can be made entirely on site, without importing the 'bottle' shells from Turkey.
A company spokesman said the move will lead to enhanced job prospects in the area.
GreenBottle chairman Paul Bateman, said: "It's papier-mâché which is just paper fibres which are made into a slurry.
"We extract the water through a patented technique which is low energy. We can use different forms of paper in this as well."
The bottle itself looks like the conventional two-litre plastic bottles on supermarket shelves.
It is made from a paper shell with a plastic liner to keep the milk fresh.