Man films dancing stepmother in Truro Crown Court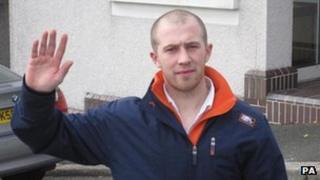 A man who posted video on the internet of his stepmother dancing on seats in the lobby of a court in Cornwall has apologised to a judge.
Shane Curnow, 24, from Stithians, faced contempt of court proceedings after taking the footage in Truro Crown Court and posting it on Facebook.
Mr Curnow's lawyer told a judge that his client believed filming bans only applied to courtrooms, not buildings.
Mr Curnow said he was very sorry. The judge accepted his apology.
'Foolish act'
Mr Curnow filmed his stepmother on his mobile phone while he was supporting her and his father when they were making a court appearance.
After recording the footage in September, he posted it on Facebook, calling it "Bored at court".
The use of cameras in court buildings is currently banned by the 1925 Criminal Justice Act.
Staff were made aware of the footage in October, and Judge Barry Cotter QC ordered Mr Curnow to face contempt of court proceedings.
Joss Ticehurst, representing Mr Curnow, of Collins Park, Stithians, said his client filmed his stepmother because "he felt that she looked ridiculous" and he had uploaded it on to the internet "as a means of showing her how stupid she looked".
He said: "It was a foolish act by a thoughtless young man. He regrets his actions."
'Considerable disrespect'
Mr Ticehurst added that having the fear of possible contempt proceedings hanging over him had been a heavy enough punishment and that Mr Curnow had also written a letter to apologise.
The footage was also removed from his Facebook page.
Accepting the apology, Recorder Richard Stead said: "He has shown considerable disrespect for the court by doing what he did and by posting it on Facebook.
"I am pleased to have received his apology, he has been very sensible to put pen to paper."
Mr Curnow's father and stepmother were not identified in court and their reason for being there originally was not said.
In September, the government said it was considering whether to allow some sentencing in English and Welsh courts to be televised.