Vital funding for Cornwall's incinerator at risk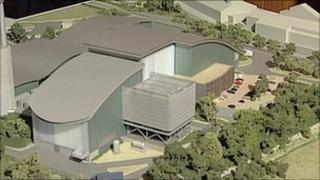 Plans for a £117m waste incinerator in Cornwall could be at further risk as a deadline looms to provide a loan for more than half its cost.
In 2006, the European Investment Bank (EIB) offered an £80m loan towards the cost of the project at St Dennis within a five-year start period.
Waste firm Sita UK said that if funds were withdrawn, the council could incur additional costs of more than £20m over the life of the delayed contract.
A decision is expected before 31 December.
Cornwall Council had proposed the incinerator deal with about 300,000 tonnes of waste a year.
Sita UK, which won the contract to build the plant, said it would generate enough electricity to supply 21,000 homes and burn 240,000 tons of non-recyclable household waste a year.
However, campaigners who claimed it could damage people's health and the environment won a High Court fight in October to reject planning permission for the project.
The High Court battle has pushed the scheme beyond the EIB deadline at the end of the year.
Secretary of State Eric Pickles signalled his intention to appeal against the court's decision, the Local Government and Communities Department said.
Independent councillor John Wood said he was glad the people of St Dennis were fighting to stop the incinerator despite the financial consequences.
A statement from the council said: "As a result of the High Court challenge, the project cannot now proceed prior to the expiry of EIB's current review date of 31 December 2011."
EIB has continued to support the project. However, as a result of the delay, it said it was reviewing its commitment to the project.
The council and Sita are currently in discussions with EIB.
It added that it hoped the bank would continue to commit its funding, despite the delay.