Union expresses Cornish midwifery fears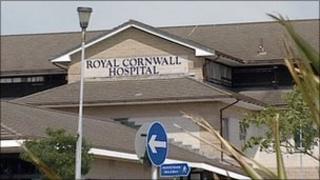 The Royal Cornwall Hospital has denied that the role of midwives is being downgraded in its maternity unit.
Six registered nurses have been appointed to fill posts traditionally occupied out by midwives.
The hospital said they would have only nursing roles and would not deliver babies.
A spokesperson for the Royal College of Midwives said it had reservations about general nurses being employed in place of newly-qualified midwives.
The midwifery body said using registered nurses was fine if it allowed midwives to spend more time with women in labour.
However it fears the plan could go further than that.
Judy Slessar, a regional officer, said: "I think this is something we're going to have to monitor very carefully to ensure the nurses are there doing a nursing job and the midwives are there doing the midwifery work.
"I think that we're going to have to be very careful that those lines don't become blurred in the future."
The Royal Cornwall hospital has denied that the traditional role of the midwife is being downgraded.
The head of midwifery at the Royal Cornwall Hospital, Jan Walters, said: "We will not be expecting registered nurses to provide anti-natal care for mothers, and nor will we be expecting them to look after labouring women."
She said it was about enhancing the service on the maternity ward.
In theatre the registered nurses would help in a "scrub role" meaning they would assist the surgeon in jobs such as handling instruments.
They would also look after high-dependence pregnancies where the women need regular blood testing and monitoring.